LIVESTOCK AND PRODUCTION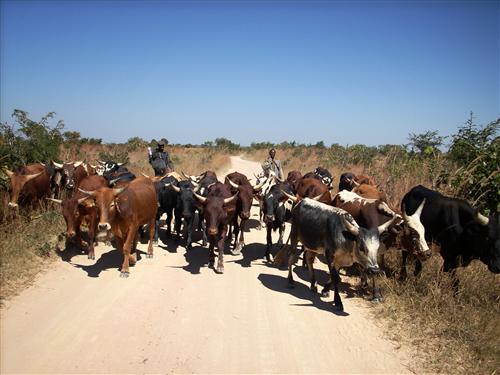 As most people know, meat is a big part of the average Namibian's diet, making livestock production a crucial part of the agriculture sector. Kunene Region is involved in the trading of animals through formal auctions and the exportation of animals to neighbouring countries, contributing to the economy of the region and the nation. The government supports livestock production in the region through various incentives including the establishment of quarantine camps to improve the quality and health of animals marketed. The following quarantine camps were established by government in the region:
Swartbooi Drift

Ehomba

Khowarib

Condor

Palmwag

Otjakati

Omutambo-maowe

TRADE AND INDUSTRY
Located 40km west of Khorixas in an area previously known as Damaraland, lies fossilized tree trunks that are estimated to be about 280 million years old. The forest is situated on a small sandstone plateau in the valley of the Anabib river. Many of the logs to be found here where fossilized over time through exposure to different weather elements and geographical changes. The two longest trunks on the site measure 45 metres in length and about 1,2 metres in diameter. The Petrified Forest was declared a national monument on 1 March 1950 and is currently operated as a tourist site under the supervision of the National Heritage Council of Namibia.

FISHERIES AND MARINE

The fisheries industry in Kunene is based at Terrace Bay, Mowe Bay and along Kunene River. The Ministry of Fisheries & Marine Resources has established aqua- culture projects in Fransfontein and Okandombo.

MINING
Kunene region offers great opportunities for mineral exploration. Based on the Namibia Chamber of Mines Annual Review 2013, the Kaoko Base Metal Project discovered Okanihova Copper targets and confirmed the presence of a body of iron-ore at Otu Ziru. Though extensive mineral exploration is underway in the region, there is still much unexplored territory. International investors within the mining sector are encouraged to engage in Public Private Partnerships with local communities to work together to create employment and add to the nation's economy.